Name of Activity:
Do You Want to Build a Snowman?
Purpose of Activity:
The purpose of this activity is to have students working in a group to exercise together and strategize how to collect equipment in order to build a snowman (or other object if teacher prefers).
Prerequisites:
4 Fitness skills that they all know Counting 1-11
Suggested Grade Level:
3-5
Materials Needed:
Various, random equipment. I used hula hoops, jump ropes, cones (large and small), foam paddles, beanbags, puff balls, polyspots, foam hockey sticks. You will also need 1-2 decks of cards and a white board or large poster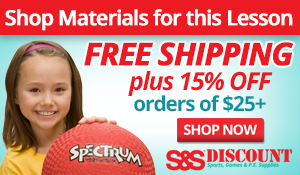 Description of Idea
Split class into groups of about 3-4. Go over with students what the 4 suits in a deck of cards are and assign an exercise to each suit. For example Hearts = jumping jacks, diamonds = push-ups, spades = mountain climbers, clubs = line jumps. Explain that Ace = 1, all face cards = 11 and the number cards are face value. Each group is assigned to a cone on one end of the gym and the equipment is spread out / scattered at the opposite end. One at a time a person from each group goes and gets a card. They bring it back to their group to complete the exercise matching the card. While the group members are preforming the exercise, the person who drew the card, runs to pick up ONE piece of equipment from the other end of the gym. They bring that back to their group and stack it by the cone. This continues for an allotted amount of time. Let students know the more they work together and the faster they complete exercises the more equipment they can collect. Groups are told before they begin what object they will be building with their equipment. I have had them build snowmen, Christmas trees and Gingerbread houses. Knowing the object ahead of starting allows them to strategize as a group to collect the right pieces of equipment. After so many minutes of collecting, have all groups stop and give them about 3 minutes or so to build their object. Then all groups stop and go back behind their cone so all groups can see what the others have created. If time allows, have the students put the equipment and cards back and do a second round with a different assigned object.
Teaching Suggestions:
Reduce the number of students on each team to ensure more activity.
Adaptations for Students with Disabilities:
If you have a student who is unable to do the exercises they can be the assigned card collector or equipment collector.
---
Submitted by Amy Evans who teaches at Gordon Bush Elementary School in East St. Louis, IL. Thanks for contributing to PE Central! Posted on PEC: 1/26/2016.

Viewed 21341 times since 12/21/2015.
---
---
Previous Comments:
There are currently no comments to display. Be the first to add a comment!