Name of Activity:
Teammate Pin Takeout
Purpose of Activity:
To reinforce rolling, underhand throwing, and catching using cues.
Activity cues:

Catching: Keep eyes on ball, Reach arms towards ball, Give with ball as ball hits hands, Pinkies together if ball below waist, Thumbs together if ball above waist.

Rolling/Underhand Throwing: Face target, Step with opposite foot towards target, Use an arm motion like you are bowling, Follow through to the sky with the arm you are throwing with.
Prerequisites:
Demonstration of the following manipulative skills using cues; rolling, underhand throwing and catching.
Suggested Grade Level:
K-2
Materials Needed:

- One bowling pin for every two students
- One yarn ball for every two students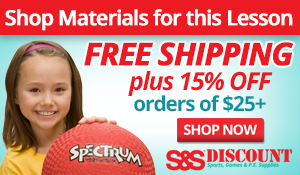 Description of Idea
1. Set up bowling pins randomly inside basketball court boundary lines.
2. Divide students into teammates of two. One teammate is the defender and the teacher assigns them a pin to guard. The other teammate is the roller and stands anywhere outside the court boundary lines.
On a signal, the Rollers start by rolling the yarn balls and attempting to knock over a pin (they must demonstrate rolling using cues for a pin to count as being "taken out") Defenders try to prevent their pin from being knocked taken out. If a pin is down, they call out the name of their teammate (the Roller). The Defender stays by their pin while the Roller stays behind the boundary line. The Roller now underhand throw the ball using cues to the Defender. If the Defender catches the ball using cues, the Roller and Defender switch positions and the pin can be set back up. If they drop the ball, teammates continue to underhand throw and catch until the ball is caught.
Assessment Ideas:
Teacher can use this as a qualitative skills assessment for any of the three skills being practiced.
---
Submitted by Hannah Sobieski who teaches at Barkhamsted School in Barkhamsted, CT. Thanks for contributing to PE Central! Posted on PEC: 2/3/2016.

Viewed 51008 times since 11/24/2015.
---
---
Previous Comments:
| | |
| --- | --- |
| Liz | after rolling can they enter the gym area to retriever their ball? |