Name of Activity:
Cardio Drumming to Ghostbusters
Purpose of Activity:
To work on rhythm and maintaining a steady beat using a drum and stability ball.
Prerequisites:
This was our first lesson using the drum equipment. The music teacher and I have spent a lot of time working on rhythm and identifying a beat with our students.
Suggested Grade Level:
K-2
Materials Needed:


One set of drumsticks or lummi sticks for each student
One stability ball for each student.
5 gallon bucket, laundry basket, or similar for the ball to sit on.
Steps of Routine Handout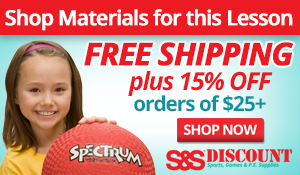 Description of Idea
This is a drum routine that our children just love! We use a stability ball, which sits on a 5 gallon bucket which acts as the drum.

This handout lists the the parts/steps to the routine. For part A, they tap the right side of the ball 4 times with the drum sticks, 4 times on the left side of the ball, 4 times on the top of the ball, and 4 times on the sides with one stick on each side. Each drum tap matches a beat in the song.
The included video below will really help show you how this works.
(Bridget Jones in shown in the video leading the class. She is a student teacher from Wright State University.)
Variations:
Students can be seated if they wish and they can choose to use only one stick.
Could try different size "drums" and stability balls if you have them.
After the students learn the routine it makes for a nice instant activity. Just have them come in and start the music and let them go.
Video:
---
Submitted by Alan Arnett who teaches at Brookville Elementary School in Brookville, OH. Additional authors for this idea were Bridget Jones. Thanks for contributing to PE Central! Posted on PEC: 11/18/2015.

Viewed 40110 times since 11/3/2015.
---
---
Previous Comments:
| | |
| --- | --- |
| Tonette | I'm excited to start this after spring break. Now if I can get the rhythm down myself... |
| Amy | I love this activity to bad we don't have the equipment to do it |
| Coach Mendez | |