Name of Activity:
Tic Tac Toe Toss
Purpose of Activity:
To practice stepping with the opposite foot while throwing underhand to a target.
Prerequisites:

In previous lessons students will have been taught the underhand throw using the following cues. In this lesson I focused on stepping with the opposite foot.

Underhand throwing cues
• Face your target
• Step with your opposite foot towards the target (i.e., if throwing with right hand, step towards target with your left foot)
• Use a pendulum arm motion with the arm you are throwing with (e.g., like you are bowling)
• Follow through to the sky or ceiling with hand you are throwing with
Suggested Grade Level:
2-3
Materials Needed:

9 hula hoops
1 container
5 red/5 blue yarn balls (or any two colors)
Floor tape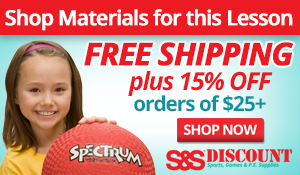 Description of Idea
For this lesson you could focus on throwing or catching cues while giving feedback to the students. For this particular lesson I focused on throwing cues--mainly stepping with the opposite foot. Therefore throughout the lesson you could hear me saying "nice job stepping with the opposite foot" or I was correcting them to do so.
Set up: Prepare tic-tac-toe boards using 9 hula hoops (3 x 3). Fill each container with yarn balls and set near the board. Use floor tape or a jump rope (so it is moveable to match the children's throwing level) to mark a throwing line at a age appropriate distance for children to throw and catch. Assign teammates of two. Ask two sets of teammates to go to a tic-tac-toe board (four students per board). Assign each set of teammates a color for yarn balls to mark the X's and O's.
Teammates 1: Student A will choose which hoop to stand in. Student B will stand behind the throwing line and throw the yarn ball to student A. If student A catches the yarn ball in the hoop, he/she places the yarn ball in the hoop to mark their spot.
Teammates 2: Repeat.
The game continues until yarn balls mark a tic-tac-toe pattern.

Variations:
Invite the children to move the throwing line forward or backward to meet their skill level.
Alternate Student A and B as throwers/catchers.
Alternate teammates.
If they choose to go back you could introduce overhand throwing.
Adaptations for Students with Disabilities:
- Use poly spots rather than hula hoops for students in a wheelchair
- Students with limited upper mobility can hold a bucket to catch
---
Submitted by Kelsey Watson who teaches at Veterans Memorial Elementary School - Crouch Ave in Norwich, CT. Thanks for contributing to PE Central! Posted on PEC: 6/24/2015.

Viewed 69787 times since 4/19/2015.
---
---
Previous Comments:
There are currently no comments to display. Be the first to add a comment!