Name of Activity:
Fitness is Fun! Scavenger Hunt
Purpose of Activity:
To have students elevate their heart rate and practice fitness skills.
Prerequisites:
Students must have prior practice with push ups, sit ups, jumping jacks, skipping, galloping, and other fitness skills you wish to include.
Suggested Grade Level:
3-5
Materials Needed:
Crayons, Scavenger hunt worksheet PDF (Microsoft Word), jump ropes, hula hoops, cones, noodles, agility ladders, fitness steps, gymnastic mats.

Additional Worksheets:
Fitness Scavenger Hunt 2
Easter Egg Fitness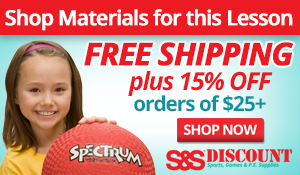 Description of Idea
To save on paper, I have the students get into groups of 3-5. You can make this an individual assignment but each student would need a worksheet. Personally I like watching the teamwork so small/medium groups work great!
Each group gets one worksheet to complete together. The teams move around the gym completing each task given. I place boxes of crayons around the perimeter so once the task is complete they get to color in the space (take turns).

Each group member must complete the entire task in order to move on.
I have the equipment spread out in a way that allows maximum movement but in a safe manner.
You can customize the scavenger hunt to work with any time of the year (pumpkin, snowman, beachball), any unit you are working on (fitness, basketball skills, football skills, etc)
All of the worksheets are above in the Materials Needed section.
Variations:
Use for Easter. See above for that worksheet.
Assessment Ideas:
There are a few tasks that the students must be counting or naming bones, fruits, veggies out loud. I tell them if I can hear them nice and loud they will be awarded "Dragon Dollars"
I am constantly walking around and listening for understanding. If they are supposed to be naming fruits and I hear veggies I stop and ask them to try again.
Teaching Suggestions:
Most kids will love this and be dripping sweat by the end. Some will try and be sneaky and color in a task that they haven't completed so make sure you are watching. I stress to my students that I look for quality not quantity. Not how quickly you can finish, but how well you work together and show good form.
I give out "Dragon Dollars" to teams working together and showing good form with push ups, sit up, jumping jacks etc.
I also tell them that if they finish too quickly then all they get to do is sit and watch everyone else complete their sheet. This usually stops those student who want to zoom through the activity.
Adaptations for Students with Disabilities:
This activity is great for kids with certain disabilities because you have them working with a friend that can help them when needed. You can even make a more personalized scavenger hunt sheet with alternative activities that are better suited for their abilities so they don't feel left out.
---
Submitted by Jessica Risien who teaches at Bowie Elementary in Rosenberg, TX. Thanks for contributing to PE Central! Posted on PEC: 3/1/2017.

Viewed 66693 times since 1/5/2015.
---
---
Previous Comments:
Mark

For the editable version in Word click on the Microsoft Word in the materials needed section above. All of the others are Word documents too below that.

Deedee Bertelmann


May I have an editable copy of the short and long version Scavenger Hunt please. I know my students will have fun doing this. Mahalo

Vicki

Could I get an editable copy of the short and long versions? Thank you so much! Looks like the kids would love it!

vkrebs@g-pisd.org

Logan

May I get an editable version sent to me as well? And I hear there's a longer version?

logan.lott@juneauschools.org

Claudia

Could I have an editable copy as well? My corrected email address is
Claudia_holland@wrsd.net

Claudia

May I please have an editable copy as well?

Claudia_holland 2wrsd.net

Susan

May I please have an editable copy as well?
spaeplow@stpius.net

Kristi Christy

Can I also have an editable copy of the scavenger hunt. It looks really awesome. Thanks

Danny P

Sounds great,Can I please get an editable copy of the scavenger hunt worksheet. Thanks for this great activity. Dpiscitelli@schools.nyc.gov

Noor

can i please get an editable copy? nhachwi@virginia-academy.com

Brittany

Hi Can I please get an editable copy as well?
Thanks

brittany.kidfitgym@yahoo.com

Katie

Any chance I could also receive an edit friendly copy of this scavenger hunt? I LOVE the idea!
Thank you!


Martink@childrensguild.org

Bridget

May I please get an editable copy of the worksheet. THis is a great workout!! THanks so much for sharing.

bjones@baptistprep.org

Maxine B.

Could I get an edit friendly copy of this scavenger hunt worksheet, also. Thanks
maxine.byrne@harlem122.org

Mileah H

Any chance I could also receive an edit friendly copy of this scavenger hunt? I LOVE the idea!
Thank you!

mhalsey@kcpublicschools.org

Felicia L

I too would love an edit-friendly copy if possible! I think my students would love this activity.

Thank you,
flindl@tvusd.k12.ca.us

Emily R

Can I please have an edit-friendly copy of your scavenger hunt worksheet?
Email is emily.raymond@livingston.k12.mt.us

The worksheet looks like the right shape to fold up into a fortune teller. Do you do that? Or leave it open?

Thanks for the great idea!
Emily

Coach T

Can I please get the editable copy

tossie25@gmail.com

Monse

Same request as the rest, an editable copy.
My email
msolabarrieta@yahoo.com

Thank you!

albusalah

Could I get a editable copy of this scavenger hunt? Thank you. My email is
albusalah2014@yahoo.com

Chris

Same request as the rest, an editable copy.
My email christine.evans@ jordandistrict.org
Thanks

Kelsey RT


May I please I get an editable copy of this scavenger hunt? Thank you. My email is kelseyrojastorres@bvsd.org

Kelly Coup

What a great idea! Could I also get an editable copy of the mentioned scavenger hunt as well as the longer version? My kids can't wait to sweat some more. My email is coupka@gmail.com.

Jen B

Could I get a editable copy of this scavenger hunt? Thank you. My email is jbrewer@covlife.org

Barbie Quellar

This is a terrific idea! I am always looking for new ways to get the kids excited about fitness. I would love to have a copy of this scavenger hunt worksheet as well as the longer version that I could customize for my class. Would you be willing to share?

My email is mrsbq@cox.net

Thanks,
Barbie

Mrs. Steyn

Is there a way to get an edit-able copy of the scavenger hunt worksheet? It looks so amazing! I would not be able to replicate it, but would love to customize it for my class. Email me at sabrina.steyn@springbranchisd.com if you have one similar that you would be willing to share!

Jessica Risien

I have another longer scavenger hunt that takes them abt 25-30 mins to complete. Feel free to email me and I can send it to you.

jerisien@lcisd.org