Name of Activity:
SCORE! Football Warm-up
Suggested Grade Level:
3-5
Materials Needed:
Jock Jams Music CD.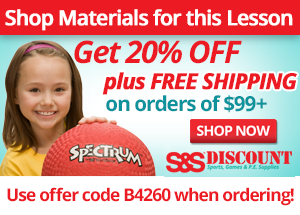 Description of Idea
For this activity students will learn the different ways to score points in a football game while performing a dynamic warm up.
Discuss with the students about the different ways a football team can earn points in a football game. For each way a team can score, the students will perform a variety of exercises based upon how many points the team can earn. Touchdown has 6 exercises. Extra Point has 1. Field goal has 3. Safety has 2. While the music is playing students will try and perform the different exercises. When the music stops, students can add up how many points they earned based upon how many exercises they complete. Students must do all the exercises in order to earn the points in that category.
Perform each exercise for 30-45 seconds.
TOUCHDOWN:
1. Jog
2. Alternating Lunges
3. High Knees
4. Heel Kicks
5. Side Slide
6. Fast feet or Sprint
EXTRA POINT:
1. Tin Soldier Kicks
FIELD GOAL:
1. Ready, Set, Go (Balance on one foot, lean slightly forward, and then bring your opposite knee to a high knee as you raise back up. Do 3 on one foot before switching legs.)
2. Jumping Jacks
3. Scissor Jumps
SAFETY
1. Tuck Jumps
2. Star Jumps
Variations:
Feel free to do different exercises.
Adaptations for Students with Disabilities

Modify the exercises.
Provide visual aides for the students.
Have the students partner with another student to complete the warm-up.
Submitted by Julie Robinson who teaches at Potential Christian Academy in Pembroke Pines, FL. Thanks for contributing to PE Central! Posted on PEC: 10/9/2014. Viewed 27634 times since 9/3/2014.
SCORE! Football Warm-up

---
Previous Comments:
| | |
| --- | --- |
| Avery | this was Awesome I think it is a great idea! |
---
---