Name of Activity:
Halloween Carnival (Special Event)
Purpose of Activity:
To promote fun through physical fitness activities and to promote knowledge of and acquisition of physical education skills.
Suggested Grade Level:
6-12
Materials Needed:
Signs, Basketballs, Footballs, Frisbees, Whiffle Balls, Plastic Bowling Pins or Plastic Bottles, Jump Ropes, 3' Wide Targets, Boom Boxes For Music, Home Made Cookies and Cup Cakes, Prizes, Pencils, Paper, Cones and all the help you can get.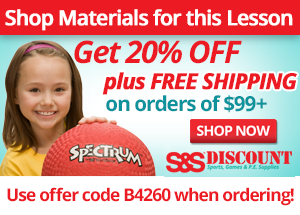 Description of Idea
We have booths where the students try to win prizes like you would at a normal fair or carnival. Our booths are:



Cup Cake/Cookie/Rice Krispie Bar Walk

Whiffle Ball Throw

3 Point Contest

Free Throw Shoot

Football Throw For Accuracy

Baseball/Softball Throw For Accuracy

Frisbee Throw For Accuracy

Ring Toss

Horseshoe Toss

IQ Test


We purchased approximately $100.00 worth of prizes at a discount store (The Dollar Tree), plus we made cookies, cup cakes, and rice krispie bars.
Each booth had a similar requirement in order to qualify for a prize. All students won at each booth regardless of performance. We had 3 levels of prizes:


Super Prize

Good Prize

Prize
We used sugar free suckers, gum, candy, etc. for many of our prizes along with the traditional type of candy (licorice, miniature tootsie rolls, tootsie pops, etc).
Teachers dressed up as they saw fit in Halloween costumes, etc. We put a sign at each booth with the name of the booth and the exercise cost.
In order to participate in the carnival, students had to dress out and participate in a Fitness Activity for the day, e.g., 2 minute jog, warm-up by stretching, etc. We also required the students to perform an exercise at each booth in order to play. For example, they had to do 5 push-ups for the 3 point contest. Each booth has a different exercise requirement.
Description of Booths:
(1) Cup Cake/Cookie/Rice Krispie Bar Walk: Operate the booth just like a cake walk, except we used colored cones instead of numbered spots. When music stops, the student standing at the correct colored cone was a winner. The cost for this booth was 5 Jumping Jacks.
(2) Ring Toss: We used soda, Gatorade, etc. for this booth. Students used rings to try and win a soda or sports drink. Cost: 10 Jump rope jumps.
(3) Whiffle Ball Toss: Students attempted to knock down plastic bowling pins (or you could use plastic liter bottles) with whiffle balls. 3 throws to knock down 3 pins.
(4) 3 Point Shootout: students attempted to make as many 3 point baskets as possible in 30 seconds. Prizes awarded according to what standard you set.
(5) Frisbee Toss, Football Toss and Baseball/Softball Toss: All used the same area. We hung a 3' in diameter net from a basketball goal using flag football belts with the flags still attached, this made for a color display. Students could choose which event they preferred to participate in and each had 3 throws to hit the target. Cost for each: Baseball/Softball Throw = 5 Trunk Twists; Football Throw = 5 Toe Touch; Frisbee Toss = 5 Jumps. Prizes based on how many times you hit target.
(6) Free Throw Shootout: Students received 3 tries to make a FT. Cost = 5 sit-ups.
(7) IQ Test: We had several categories to choose from: Bell High School Sports Trivia by sport, College Sports, Professional Sports, and Fitness Facts. Students were required to take a 5-10
question test on whatever area they drew out of the bucket. If they passed, they would receive the appropriate prize. In this booth we hoped to develop an appreciation for the academic side of Physical Education. The possibilities are endless.
Samples of Prizes: Make-Up Kits, Masks, Wigs, Games, Cards, Small Stuffed Animals, Yo-Yo's, Bubble Blow Sets, Many different kinds of miniatures, etc. You are only limited by what you can find available to you.
Submitted by David Halter who teaches at Bell High School in Bell, FL. Thanks for contributing to PE Central! Posted on PEC: 10/13/2001. Viewed 49171 times since 8/24/2001.
Halloween Carnival (Special Event)

---
Previous Comments:
test2

Utterly pent subject material, regards for entropy.
test2 http://testsitedummy.com/

Patricia

I agree with Chris. As I was reading about the baked goods, I was surprised to see this activity on PE Central. Although a cookie, cup cake or rice krispie bar once in a while is not a terrible thing, I don't think having those items in a PE class as a prize is educationally sound. Plus, it is against my school's wellness policy.

Chris

Like the idea but I would never use junk food as a prize-- that is one of the reasons we have obsity issues and we fight them in PE. I would switch to healthier alternatives, pencils, erasers, spider rings, etc.
---
---