Name of Activity:
Cooperative Skills Challenge Stations
Purpose of Activity:
To provide cooperative and fun skill challenges in a station format.
Suggested Grade Level:
4-5
Materials Needed:
Balls of all kinds and sizes, stopwatches, cones.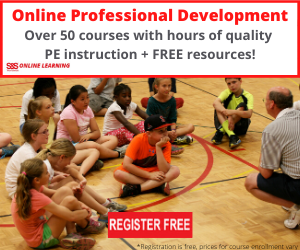 Description of Idea
These are great activities that allow children to work together and work on their physical activity skills. They are taken from the Cooperative Skills Challenge program from PE Central but you do not need to sign up or formally participate as they work great for stations. If you want to sign up go here.
Cooperative Skills Challenge Program
Description for each of the skills challenges to help you with set up are located here:
Videos are located here:
Here are the 6 Skills Challenge stations.
Balance Shuffle
This is for two children. One child stands on one end of the board and the other on the opposite end end of an eight foot long 2" x 4" board placed on the ground (the 4" side goes on the ground or floor). The board is marked with lines twelve inches from each end. Children start and finish behind the lines at opposite ends. When they switch they travel to the mark on the opposite end of the board before starting back to their original positions. Each child travels to the opposite end of the board and then back without falling off or touching any body part to the ground.
Partner Throw and Catch
Throw and catch an object with your hands with a partner 30 times in a row without a miss from a distance of 25 feet. Both catches and throws must be made behind the line. If the throw or catch is not made past the line or a throw is dropped the task must be started again. Each youngster will complete 15 throws and 15 catches for a total of 30.
Volley Up
Three youngsters stand in a triangle formation three giant steps from each other. The challenge is to volley a ball (not a beach ball or a balloon) 10 times in a row without the ball hitting the ground. Each youngster must contact (volley) the ball at least twice but may not strike it twice in a row.
Jump That Rope
Jump a single rope continuously (rope must remain in a constant turning motion) for 90 seconds without a miss.
Paddle Strike
Strike a ball with a short or long-handled paddle or racket in the air continuously for 60 seconds to your self while remaining in a 3-4 foot diameter space, e.g. hoop, jump rope formed into a circle. The circle must remain stationary for the entire 60 seconds.
Hula Hoop
Hula hoop for 20 seconds with the hoop starting around the waist and remaining off the ground (floor) the entire time.
Video

Submitted by Mark Manross in Blacksburg, VA. Thanks for contributing to PE Central! Posted on PEC: 4/30/2014. Viewed 57217 times since 4/30/2014.
Cooperative Skills Challenge Stations

---
Previous Comments:
There are currently no comments to display. Be the first to add a comment!
---
---