Name of Activity:
Stump the Teacher
Purpose of Activity:
The students will use their imagination and move creatively in an attempt to stump the teacher.
Suggested Grade Level:
K-2
Materials Needed:
Music that can be quickly and easily turned on and off. A piece of paper and a pen.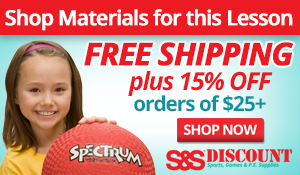 Description of Idea
Tell the students to think of an animal. Tell them to imagine they are that animal. Tell them to pretend to be that animal when the music begins. Tell the students to stop (using your class protocol) when the music stops. Let the students know you will try to name the animal they are pretending to be. Now turn the music on. Observe as the students move like their selected animal. Use the pen and paper to write down some of the animals you saw. Now turn the music off. When the students stop, read the list of animals that you saw. There will be some animals that you didn't name. Have those students tell you and the class the name of their animal. Tell those students that they "stumped" you. Of course, you should tell them what the word "stumped" means. Play several more rounds of this game, but use a different category each time. Here are some categories you can try.
1. Animals
2. Pets
3. Farm Animals
4. Sports
5. Tools, equipment
6. Household chores
7. Transportation (Trains, planes, cars, etc.)
Variations:
You can be more specific when naming categories. For example, you can use basketball as a category instead of sports. This will allow the students to focus on specific movements in one specific sport instead of trying to think too long about a sport.
Teaching Suggestions:
Keep children moving as much as possible, while minimizing wait time while teacher is guessing the animal. This activity works well as a warm-up activity.
---
Submitted by Bob Wright in Richboro, PA. Thanks for contributing to PE Central! Posted on PEC: 9/10/2014.

Viewed 71859 times since 4/15/2014.
---
---
Previous Comments:
There are currently no comments to display. Be the first to add a comment!