Name of Activity:
Puddle Soccer
Purpose of Activity:
The students will practice dribbling with feet while working on space awareness and ball control.
Prerequisites:
The students should have already been taught to look around while dribbling. They should be able to dribble without constantly looking down at their ball. All children will dribble at once, so they need to look up and all around while dribbling, so they don't bump into each other.
Suggested Grade Level:
1-2
Materials Needed:
Each child needs a ball. You will also need 8 large cones and 18 small cones and a drum or other item to simulate thunder. A square playing area is preferred.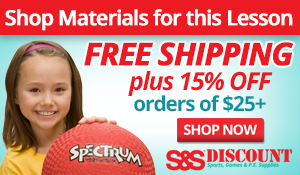 Description of Idea
Set up 2 large cones in each corner of the field. The 2 cones should be 10 feet apart, which should allow enough room for half of your students to stand between the two cones at the same time. Tell the students that these 4 areas are 4 houses, which is where you should go if you hear thunder, which is accompanied by dangerous lightning (a drum makes a good signal for thunder).
Using the small cones, set up 6 triangles, using 3 cones for each triangle. Space them out evenly throughout the square field. These 6 triangles are puddles, which is where children like to play after it has rained outside.
Instruct the students to dribble in and out of the puddles without bumping into other children or allowing their ball to touch other children or balls. Tell them to go from puddle to puddle as they dribble their soccer ball. After 30 to 60 seconds, beat the drum to simulate thunder.
Instruct the students to dribble to a house, because that's a safe place to go when thunder is heard. When all students are in a house, look up at the sky and tell them the storm has passed. Tell them to come outside and dribble through all of the puddles again.
Variations:
Make the puddles larger, so it is easier to dribble through them.
Create additional puddles.
Make the field larger to create more space, so there's less chance of students bumping into each other.
Encourage students to dribble at a pace comfortable for their current skill level.
Use modified balls to allow easier ball control.
Assessment Ideas:
Observe students' ball control and spatial awareness. Increase or decrease the size of the area or puddles as a result of your observations. Challenge students with better ball control to speed up their traveling while still controlling their body and their ball.
---
Submitted by Bob Wright in Richboro, PA. Thanks for contributing to PE Central! Posted on PEC: 9/10/2014.

Viewed 1462448 times since 2/9/2014.
---
---
Previous Comments:
| | |
| --- | --- |
| Amber Binney | good idea, I plan on using hula hoops as the homes |