Name of Activity:
King Kong's Skyscraper
Purpose of Activity:
The purpose of this activity is to work together as a group to build a structure that stands on its own. The structure will be built at various levels.
Prerequisites:
Students should have a general understanding of cooperation and teamwork.
Suggested Grade Level:
3-5
Materials Needed:
12 Poly Spots or Field Marking Strips, 12 Buckets, 12 Cones, 12 Bubbles, 8 Blocks, 8 Hula Hoops that have 4 Matching Colored Sets, 4 Cup Stacks and 4 Gorilla Bean Bags. You can use any Physical Education equipment that is stackable.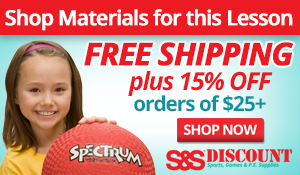 Description of Idea
Materials should be set up before your class arrives. On one baseline of the gym, evenly space 4 differing colored hula hoops. On the opposite side of the gym, place the other 4 hoops in-line with their matching color. Fill 4 of the hoops on one side with equal amounts of equipment (3 poly spots, 3 buckets, 3 cones, 3 bubbles, 2 blocks, 1 cup stack, 1 gorilla bean bag in each). This end will be the construction materials site. The empty hoops are the students construction zones.
Before beginning this activity, have all the students sit around one of the hoops containing the equipment. I briefly explain what the class will be doing (building a skyscraper) as the following questions have more relevance if they know what is going to be happening. Have a lead up conversation about cooperation and teamwork. Here are some questions I have used:

What does it look like when students are working well together?

What does it look like when someone is leading an activity?

How does it feel when someone uses your idea?

Will your idea always be the one that gets used? (Not always and sometimes that can be frustrating.)

What are some ways of reacting in this situation and are those reactions going to help or hurt your group while trying to reach the goal?

Will certain ideas always work well?

How can you let someone know why you think something will or will not work well?


These questions begin students thinking on group work and also give them some tools to use during class. As students engage in the activity, many situational questions will arise and you can have individual group discussions during this lesson.

After introducing teamwork, explain the activity. The class will be separated into four groups and groups will be placed at a hula hoop. When the activity begins all students will run the equipment from their materials site to their construction zone. They must do so 1 piece at a time (1 cup, 1 bucket, etc.) until all the equipment is on the outside of their matching hula hoop. They can all run at the same time as relay style would take the majority of their class time. When all the materials have reached the opposite side, the students may begin building a skyscraper for King Kong (the gorilla bean bag). They should build the skyscraper inside of their hoop. Their first goal is to build the tower as tall as the tallest person on their team. The gorilla will be the last item placed on the tower. The tower must contain all of the materials and be able to stand on its own. If their team completes the first challenge, they will run the equipment back to the opposite side of the gym as they did the first time. The second goal is to build the tower as tall as the tallest person with their hand raised in the air. If they complete this challenge, they may take their tower down and rebuild in the same hoop (as class is nearing the end by this time) and build one as tall as I am (6' 2").

Save 5 - 10 minutes to organize materials and debrief with your students. The length of debrief sessions depends on how the class worked together with their individual groups. This activity allows for some great conversations from the students.

Sample Debrief Questions:
What were some things that helped or hurt your group's ability to accomplish the goals?
Name something specific that another student did that you thought was helpful?
Did anyone feel like they did what was best for their group and not necessarily best for themselves?
Did you feel like you had a positive and productive role in your group today?
How did it feel to be a part of this activity?
As you are teaching and watching the class prior to the debrief, look for situations that you can bring up at the end. For example: I noticed how someone took the lead in this group. How did it feel being the leader/follower? Are their times when you have to step up and lead and times when you have to follow someone's directions? It is nice to hear how students will relate this activity to different aspects of their lives, in school or out.
Assessment Ideas:
Self Assessment: You could formulate a checklist, highlighting the key points of cooperation and teamwork. Students check the boxes they feel apply to their individual performance.
Self Assessment: Give students a writing prompt to complete outside of P.E. "What did you do to help your team achieve their goals?" -or- "What could you have changed to help you team achieve their goals?"
Peer Assessment: Give students a piece of paper. Have them write 2 names of students in their class who they felt best helped their group and have them add why these two students best helped their group.
Teacher Observation: Have a chart with columns and rows with students names listed. Have as many columns as needed to highlight key points that relate best to your personal and social grading procedures. I have used take turns, encouraged, followed directions, and picked up.
Adaptations for Students with Disabilities:
Students in wheelchairs have used walkers with baskets to deliver materials. I have a student that must remain in their powered wheelchair and I have had them hold a hockey stick and slide materials from one end to the other while steering. I have also had students that cannot remain standing be the "foremen" and give directions for equipment placement. Partner assisted for some students works well, too.
---
Submitted by Derik Jordan who teaches at Greene Central School in Greene, ME. Thanks for contributing to PE Central! Posted on PEC: 5/1/2014.

Viewed 82671 times since 1/29/2014.
---
---
Previous Comments:
| | |
| --- | --- |
| catrina mills | |
| rebekah faith mckinney | how do we know the rules? |
| Derik Jordan | Gorilla beanbags are part of a land animal set sold by gophersport and the bubbles are just dome cones. |
| Cindy Watts | Gorilla beanbag and Bubbles? What are these exactly? |