Name of Activity:
Catch The Leprechaun
Purpose of Activity:
To use a St. Patricks Day activity to get the class off to an active start.
Prerequisites:
The ability to move safely in general space (avoiding others); to change speed and pathways to avoid others.
Suggested Grade Level:
2-5
Materials Needed:
Gold Coins (can be made out of paper and laminated), Belts/pinnies for the students who are Shamrocks (taggers)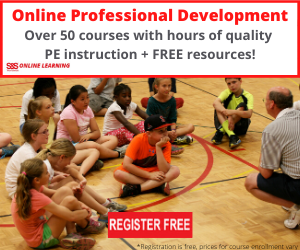 Description of Idea
Set cones out to designate the playing area. Students need to stay in this area while playing this tag game. Depending on class size, designate 2-3 students as taggers (they can wear a belt, pinnie, for identification). These students are the Shamrocks. Their mission is to chase and tag the Leprechauns (e.g., the remaining students in the class). Each Leprechaun carries one gold coin. If they are tagged, they must give the Shamrock their coin. Then Leprechauns go safely to Teacher/Pot O' Gold (located on the outside of the playing area) to receive another coin. At the end of 1-2 minutes, Shamrocks add up the total amount of coins collected. Choose 2-3 new Shamrocks and play again.
Teaching Suggestions:
Remind students that when Leprechauns are tagged they must give up all their gold, this will help students only carry one gold coin.
Submitted by Becky Hoffmann who teaches at Brother Dutton School in Beloit , WI . Thanks for contributing to PE Central! Posted on PEC: 5/23/2001. Viewed 71621 times since 8/24/2001.
Catch The Leprechaun

---
Previous Comments:
| | |
| --- | --- |
| Jill L. Spielberger | Not only is this activity great for enhancing cardiovascular strength, students get to put their basic math skills to the test! |
---
---