Name of Activity:
Easter Egg Hunt
Purpose of Activity:
Increase cardiovascular endurance and develop the components of health related fitness.
Suggested Grade Level:
K-5
Materials Needed:
Twenty to thirty cones and plastic Easter Eggs; pastel construction paper; enough equipment needed to complete tasks; motivating music; music player.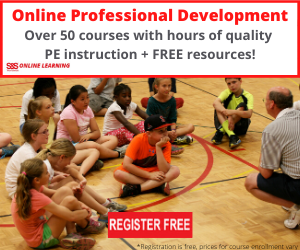 Description of Idea
Before class, draw a template of an Easter Egg on different colored pastel paper. On the reverse side of the egg write various fitness activities. Examples include jumping jacks, jump rope any way you wish, arm circles, crab walk from one cone to another, curl-ups, push-ups, rest, get a drink of water, jog around the cones, touch each toe and count to ten each time, bounce the ball, etc. Cut the eggs out and then place each paper in a plastic egg.
Set up the cones randomly around the center of the gym leaving area for jogging around the outside of all the cones. Under each cone place one of the Easter Eggs.
When the music is playing the students jog around the perimeter of the cones. When the music stops they go on an "Easter Egg Hunt" turning over a cone to discover an egg. They read what it says inside the egg and perform that exercise until the music plays again (15- 30 seconds). When the music begins, they replace the paper in the egg, put it back under the cone, and continue this routine until the students have performed about five to six or more exercises.
Assessment Ideas:
Take pulse after jogging to see if they have reached their target heart rate zone.
Ask students what component of fitness each of the various exercises relates to.
Teaching Suggestions:
If you do not have plastic eggs, you can laminate the paper eggs and place them by themselves under the cones. One side of the egg can be "decorated".
Submitted by Patricia Ryan who teaches at Indian Lake Central School in Indian Lake , NY . Thanks for contributing to PE Central! Posted on PEC: 5/23/2001. Viewed 53250 times since 8/24/2001.
Easter Egg Hunt

---
Previous Comments:
There are currently no comments to display. Be the first to add a comment!
---
---