Name of Activity:
Turkey Time
Purpose of Activity:
The purpose of this activity is to give students the opportunity to use their chasing, fleeing, and dodging skills in a fun holiday situation.
Prerequisites:
The ability to move safely in general space (avoiding others); to change speed and pathways to avoid others.
Suggested Grade Level:
2-4
Materials Needed:
Cones to mark off area; tug-of-war or large jump ropes; flags or other items such as scarves to substitute for them.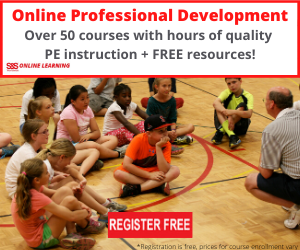 Description of Idea
Before class, set the area up by using cones to mark off a large rectangular area. Place the tug-of-war or long jump ropes in the shape of a large circle in the middle of the playing area (this represents Plymouth Rock).
Explain the game to students as follows (demonstrate if needed): 5-10 taggers ("Pilgrims") will stand in the center of the rope. The rest of the class ("Turkeys") stand side by side around the rope (as spread out evenly as possible) with a flag tucked in their (back) pocket or waistband representing a turkey's tail. On the count of 3, the turkeys ask "What time is it?" The teacher responds with anything like "chicken time" or "pizza time." When the teacher responds "Turkey Time," the Turkeys leave the rope as the Pilgrims try to pull the turkey's tails (flags). If the "turkey" makes it to the outside of the sidelines without getting his/her flag pulled, he/she is "safe". If, however, a flag or tail is pulled, that person would go to the sidelines, do a fun movement of their choice three times in a row (e.g., 3 jumping jacks, 3 twists, 3 "turkey dances", 3 jumps, etc. while "gobbling" 3 times....then the "turkey" would then be back in the game. After a few minutes and/or a few tries, new Pilgrims will be chosen and the game will begin once again.
After explaining the game, make sure students understand the game. Remind them of safety concerns such as turning around quickly (if they are a "turkey") and running into someone (make sure you are far enough apart), and not cutting in front of someone who is also running (so they don't crash).
Assessment Ideas:
Observe individual students' abilities to successfully chase, flee, and dodge.
Teaching Suggestions:
Be sure to observe children's ability to move safely through general space. If students are not able to do this, cease play!
Submitted by Mark Hendry who teaches at Valley View Elementary School in Lakeland , FL . Thanks for contributing to PE Central! Posted on PEC: 5/23/2001. Viewed 74435 times since 8/24/2001.
Turkey Time

---
Previous Comments:
| | |
| --- | --- |
| Stephanie F. | I think this means to say that the TURKEYS will stand in the middle of the rope area and the PILGRIMS are spread out around the area. |
---
---