Name of Activity:
Hoop Hoppers
Suggested Grade Level:
3-5
Materials Needed:
Half as many hula hoops as you have students. Not necessary, but you may want to make extra large task cards- half round and half rectangular. Tasks may include exercises (jumping jacks, speedy hopscotch, floor jacks, ABC push ups, Superman...) or challenges (push up beanbag toss, hula hoop around your waist, crab tag, leap over the hula hoop, jump your hula hoop as if it is a rope...).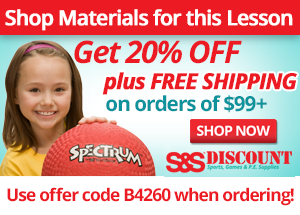 Description of Idea
Students find partners by standing either toe-to-toe or back-to-back with a classmate. Hula hoops are scattered throughout the area. The teacher holds task cards and says, "Hoop hopper!" Students must hop with their partners to a hula hoop. One partner stands inside and one partner stands outside the hoop. The teacher holds up a rounded task card and a rectangular task card. The student inside the hoop performs his task or challenge (circle task card) and the student outside performs his task (rectangular task card.) When the teacher says, "Hoop Hopper!" again, students hop to a new hoop and switch places with their partners from inside to outside. Repeat as time, energy, and interest dictate.
Variations:
Music may be played to indicate when to change hoops. Play music while students perform tasks, and stop it to indicate that they must change hoops.
Students could also use different locomotor skills while changing to another hoop.
Submitted by Susan Brown who teaches at Carysbrook Elementary in Fork Union, VA. Thanks for contributing to PE Central! Posted on PEC: 11/15/2013. Viewed 46530 times since 10/3/2013.
Hoop Hoppers

---
Previous Comments:
There are currently no comments to display. Be the first to add a comment!
---
---