Name of Activity:
Hungry Hungry Students!
Suggested Grade Level:
K-2
Materials Needed:
Soft gator skin balls, pop up goals, pinnies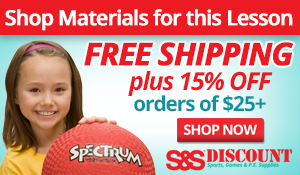 Description of Idea
Based off of the children's game Hungry Hungry Hippos; one pop up goal is set up in each corner of the gym (for a total of 4 goals). There are four teams, each team wearing a different colored pinnie. The teacher spreads soft gator skin balls throughout the gym. When the game begins, each team must kick as many balls into their goal as they can. Once all the balls are in the goals the game is over and each team counts how many balls are in their goal.
Depending on the play environment, students should only be allowed to score while inside the basketball court boundaries. If that is not feasible, poly spots (or other markers) can be set around each goal for a boundary students cannot cross. If pop up goals are not available the teacher can make zones in the corners in which the teams must kick the balls.
Variations:
Some alternatives to pop up goals: the teacher can build a pathway out of mats, or use empty trash cans.
The teacher can also use only two teams participating at a time and have each team shoot into two goals (one goal each).
The teacher can also put a pinnie on the goal that corresponds to the team shooting into the goal to help younger students remember which goal they are shooting at (for example, put a yellow pinnie on the goal that the yellow team is shooting into).
Put colored pictures of Hippos on the goals.
---
Submitted by Thomas Barrett in Randolph, NJ. Thanks for contributing to PE Central! Posted on PEC: 10/7/2013.

Viewed 26257 times since 4/4/2013.
---
---
Previous Comments:
There are currently no comments to display. Be the first to add a comment!