Name of Activity:
Juggling Scarves Movement Composition Lesson Series
Purpose of Activity:
A fun activity meant to build from individual skills practice to juggling scarves routine creation in groups.
Prerequisites:
General movement composition discussion.
Suggested Grade Level:
3-5
Materials Needed:
2 juggling scarves for each person in the class and assessment sheets.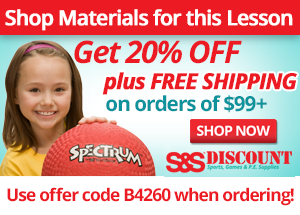 Description of Idea
This is actually a juggling scarves movement composition lesson series that worked very well for me and requires few resources. To summarize, it takes up approximately 160 minutes. For me this was two 80-minute lessons, but for many of you it will be either three or four 30-45 minute lessons. There are a number of steps to follow, but it is a very interactive lesson that includes a final assessment task. The lesson, along with video, photos, teacher questions, and example student assessment is fully documented at
Movement Composition Juggling Scarves Series
Here is a brief description of each of the steps of the lesson series.
A) Have the following questions posted on the whiteboard or on chart paper and use the questions to stimulate discussion about movement composition. If possible record your students' answers. 
1. Describe the difference between an OK and a very good movement composition routine? 
2. Why is it important to match movements used in a routine to the piece of music it is being performed to? 
This part of the lesson should take no more than 5 minutes and the You Tube video seen below is what I had my students watch. It is a funny, entertaining clip of 2 Cirque Du Soleil performers doing a juggling scarves routine. One is juggling and the other one is using drums to create a distinct beat for their routine. After watching the video the students answered the following questions. 
Cirque Du Soleil You Tube video clip can be seen below or use the link under it that will take you to YouTube.
https://www.youtube.com/watch?v=Wicmdq8tIsA
After watching the You Tube video teacher asks following questions to students:
1. What created the music in this routine? 
2. How did the movements of the juggler match the beat of the drums? Give specific examples? 
3. What are some juggling scarves movements/tricks that the juggler created as part of his routine? 
Tuning In (Part B)
Giving the students only one scarf each and putting them into their own area, they had to explore different types of tricks and movements that they could do with their one scarf (NO MUSIC played at this point). The following questions are asked at this point. 
1. What movements/tricks are easy for you? 
2. What movements/tricks are more difficult to do?
Video and Audio at this point (Part C)
Giving the students 2 scarves now, I have them watch the video of the juggler and obviously hear the beat of the drums. They are to copy, as closely as possible, the movements of the juggler in the Cirque video. They love this part!!! I give them a few goes at copying the juggler. 
Assessment Criteria Discussion (Part D)
At this point they are informed that they will create their own juggling scarves routine either on their own or a group of 2 or 3.  It is very important to discuss what assessment criteria they believe are critical when creating, planning, and practicing for their routines. The following assessment criteria was what my grade 4 students came up with.
Body Control
Timing
Challenging
Movements Matching Music
However, the conversation that you have with your students may result in different assessment criteria being selected.
I recorded this criteria in my journal and then created their formative assessment sheets to be used in the final phase of this lesson (see website link for actual assessment template used). 
Practice, Refine, Practice, Refine (Part E)
Once the students decided whether or not they wanted to work in groups, they got down to business creating a juggling scarves routine. The requirements were that they had to come up with 5 distinct tricks/moves using the juggling scarves and record their routine, step-by-step on their assessment sheets.
They had to practice and refine their routine and decide how many times they wanted to repeat the pattern of juggling scarves tricks during the piece of music. The music was 1 minute 18 seconds long. Some groups repeated their pattern of 5 movements twice, some groups three times. I didn't care as long as they were able to decide on the timing and come up with a pattern of 5 movements. 
The Final Act (Part F)
Instead of performing for the whole class, what we did was one group would perform for another group. The group observing would give feedback and then the observing group now performed theirs. Feedback was given and then all groups, at the same time, self-assessed using the formative assessment sheets. 
Teacher Reflection
A fantastic lesson that flowed well. They were essentially in charge of creating their own assessment criteria, so knew ahead of time what was expected of them and how they were being assessed. Although it was a self-assessment, I was able to assess them using their own criteria as well.
Assessment Ideas:
Students will assess themselves using the assessment criteria which is generated through class discussion. As well, peer assessment will be given through verbal feedback after routines have been observed.
Submitted by Andy Vasily who teaches at Nanjing International School in Nanjing, GA. Thanks for contributing to PE Central! Posted on PEC: 2/27/2018. Viewed 72499 times since 2/5/2013.
Juggling Scarves Movement Composition Lesson Series

---
Previous Comments:
| | |
| --- | --- |
| Margie | The You Tube video is unavailable |
---
---