Name of Activity:
Shrek's All Star Warm Up
Purpose of Activity:
To get students more practice with motor skills during a warm up.
Prerequisites:
The students need to know how to perform several locomotor movements. Skipping, jogging, and galloping are some movements and most of the students are pretty good at them.
Suggested Grade Level:
3-5
Materials Needed:
You will need a projection screen, smartboard or tv and a computer to show the powerpoint.

Shrek Warm up Powerpoint

Shrek Warm up PDF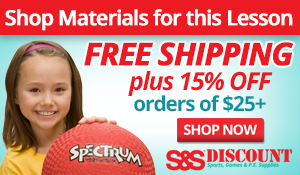 Description of Idea
Students will move around the gym in either clockwise or counter clockwise fashion. They will perform the movement that is listed on the PowerPoint (e.g., skip, hop, etc.) I play the song "All Star" by Smashmouth it seems to fit the theme pretty good. You can have the movements switch automatically, or just do it manually for how long you want. The song I play is just over 3 minutes, so it doesn't take much time at all.
Variations:
Any of the movements can be adapted or replaced. If a special needs student can't perform a specific movement, they can do a movement that they are capable of doing.
---
Submitted by Mark Wilcox in Lumberton, NC. Thanks for contributing to PE Central! Posted on PEC: 3/5/2013.

Viewed 28891 times since 1/29/2013.
---
---
Previous Comments:
There are currently no comments to display. Be the first to add a comment!