Name of Activity:
Jump Rope Ladder
Purpose of Activity:
The students will use skill progressions to improve their individual jump rope skills.
Prerequisites:
Students should already be able to perform basic jump roping.
Suggested Grade Level:
3-5
Materials Needed:
Proper Size Jump Rope for Each Student Created JUMP ROPE LADDER poster made with 3 sets of posterboard. Tape, Markers, Yardstick, Laminator Printed Visual of SPARK Individual Jump Rope Skills. or Jump Rope cards from the American Heart Association. You could also put a couple of skills at each level so the students could choose which one they wanted to perform.
Click here to see photos of the ladder in action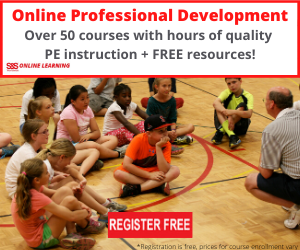 Description of Idea
Begin class by having students pick the jump rope that is the appropriate size. Have all students gather their jump rope and give them a minute or two free time to jump while you sort out the students.
Blow whistle and have students sit in front of the Jump Rope Ladder. Explain to them that a skill progression challenge means something starts easy and gets harder as your practice. The Jump Rope Ladder starts at the bottom, just like how you would if you were climbing a ladder. Each step on the ladder gets harder. The bottom is the easiest and the top is the hardest. Each step of the ladder also includes a picture that indicates the manevuer for that level. In order to complete a level you must do the skill at least 5 times.
When I say go, you will have the entire class to try and complete the ladder. Make sure you start at the bottom. If you are not sure what to do first look at the picture, then ask a friend, and finally ask the teacher.
Before allowing them to practice go over a few safety rules.

1. Only use the jump rope for jumping
2. Use extra personal space
3. Do not jump near the jump rope ladder poster as other students will want to access it.
4. If you wish to change your rope that if fine as long as you return the old one.
Teachers:
As students are jumping, walk around and give feedback. Ask them their level etc. This is a very hands-off type of teaching. Most of the work is in creating an elaborate poster with the pictures and the steps arranged.
I have arranged mine in the following steps.
1 Forwards Jump- Jump Over Forwards
2 Double Bounce- Two Bounces Before One Jump
3 Single Bounce- One Bounce and Jump
4 Hop- On one foot
5 Backwards Jump- Self Explanatory
6 Jog & Jump- ""
7 Hot Peppers- Jump as fast as you can
8 Side Swing- Swing rope out wide and then jump
9 Straddle- Jump with feet out wide
10 Twister- Twist body when jumping
11 Skier- Jump side to side over a line when jumping
12 Bell- Jump front to back
13 Heel Taps- Alternate heel taps while jumping
14 Rocker- Body like a rocking chair
15 Hopscotch- Single, Straddle, Single, Straddle
16 The X- Criss cross legs when jumping
17 Crossovers- Cross arms when jumping
18 Double Unders- Rope passes under twice to one jump.
On occassion students will complete the Jump Rope Ladder. Have them continue to practice. This also serves as a great subsitute lesson plan.
Video (YouTube)
Assessment Ideas:
Ask students where they began and ended.
Assign a goal for students to achieve and a window of time for a grade.
Review what a skill progression is.
Have a student explain to a partner or the teacher what the Jump Rope Ladder is.
Adaptations for Students with Disabilities

Allow those students to use skipping sticks, to shadow the movement.
Use a long jump rope with disabilities student being turner or jumper.

Submitted by Brad Flaig who teaches at Belle Grove Elementary School in Pasadena, MD. Thanks for contributing to PE Central! Posted on PEC: 10/1/2013. Viewed 152998 times since 12/27/2012.
Jump Rope Ladder

---
Previous Comments:
Sharon

Why does sparkpe.org send me to school specialty? On which site would I find the cue cards?

Robin Nehls

The SPARK DEMO CADS ARE IN THE SPARK FOLIO

Julia Ortiz

I can not find the demo cards on spark pe. Has anyone found them?

siona

can you share the ladder (visuals) with us?

Mia

Did you buy the jump rope ladder or make it?

Maryanne Ceriello

Great idea!Nice graphics and a well done video.
thanks

Kristi Christy

Where can I find the Jump rope ladder to print?

Eric Shaw

Love the idea!! Have searched for any pictures that illustrate the tasks but cannot find them anywhere. Did you draw them yourself?

Austin Barcome

I really liked your Cue cards. Where did you find pictures that Illustrated each of the different skills?

Travis Bateman

I like the ladder progression idea. I would like one for throwing and catching skills. Have you made one for this also?

Brad F

-- I shared this idea that I have found was successful amongst teachers in Anne Arundel County. I did not originate this idea, other than creating the visuals.
---
---