Name of Activity:
I Love P.E.
Purpose of Activity:
Practice locomotor skills combined with movement concepts
Prerequisites:
Students are able to perform fundamental locomotor movements. Students can move safely in self-space and general space. Students understand movement concepts such as pathways (straight, curved, zigzag), directions (up/down, forward/backward, right/left), and time (fast, slow).
Suggested Grade Level:
K-2
Materials Needed:
Enough polyspots so that there is at least one for every student. Locomotor skills written on pieces of paper and taped to the bottom of identifiable polyspots. Movement concepts written on pieces of paper and taped to the bottom of different polyspots. Music. (suggestion: Tape all locomotor skills to the bottom of a specific color polyspot so the teacher can remember which spots contain locomotor skills. Use a different color polyspot for movement concepts.)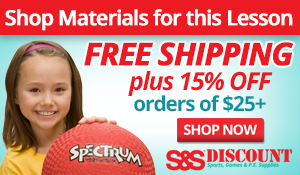 Description of Idea
Spread all spots around the gymnasium, word faced down. Have the students begin with one locomotor movement and one movement concept (e.g., walking, slowly). The students will say "I love walking slowly!" on the teacher's command. When the music starts playing, they start walking slowly.
When the music stops, the students continue to the closest open polyspot and stand on it. The teacher will call on one student (who she knows is standing on a locomotor polyspot) and one student standing on a movement concept polyspot. They will turn over their spots and read the slip of paper taped to it, out loud to the class. The class will respond with "I love ______ _______" with the verb (locomotor movement) and descriptor (movement concept). They will then do the movement when the music starts.

Variations:
Include pictures with the words on the bottom of the polyspots to help non-readers and beginning readers.
Assessment Ideas:
The teacher will observe students during each task to determine which skills and/or movement concepts need more instruction and/or practice. A checklist for each skill and movement concept would help the teacher remember specific students' needs. The teacher could also video record the activity in order to have time later to write down their assessments of individual students.
Adaptations for Students with Disabilities:
Wheelchair user: Have all students on scooters moving around spots and instead of using locomotor movements, you can use object control skills (throwing, rolling, collecting) or non-locomotor movements (bending, twisting, etc..)
---
Submitted by Samantha Ruedy who teaches at UW-La Crosse in La Crosse, WI. Thanks for contributing to PE Central! Posted on PEC: 3/4/2013.

Viewed 100700 times since 12/10/2012.
---
---
Previous Comments:
There are currently no comments to display. Be the first to add a comment!