Name of Activity:
Red Light Green Light 3, 2, 1
Purpose of Activity:
To reinforce the concept of keeping the ball close to you while dribbling.
Prerequisites:
Previous lesson on how to dribble the ball (Basketball or Soccer) with an emphasis on proper technique and using the skill of looking up when you dribble.
Suggested Grade Level:
K-2
Materials Needed:
one basketball or soccer ball per child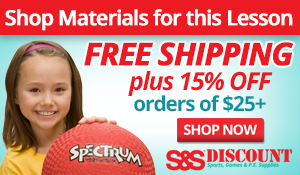 Description of Idea
All students line up on one side of the playing area. On "green light" students dribble their ball to the other side of the gym. When students get there, they turn around and dribble back to the other side. When "red light" is called, students must stop and either hold their ball against their stomach or trap it (like in soccer) within 3 seconds (I usually count down 3, 2, 1!). Continue with "green light" / "red light" calls throughout the game. Stress the importance of looking up to see where you are going and to keep the ball close enough to catch or trap it when "red light" is called.
Assessment Ideas:
By observation I can tell who dribbles properly and who may need additional practice.
---
Submitted by Kevin Tiller who teaches at Shawsheen School in Andover, MA. Thanks for contributing to PE Central! Posted on PEC: 3/5/2012.

Viewed 83742 times since 2/6/2012.
---
---
Previous Comments:
There are currently no comments to display. Be the first to add a comment!