Name of Activity:
Invertebrate Dribbling
Academic content:
Science
Purpose of Activity:
To practice proper dribbling skills and to work on identifying invertebrates into the four major types.
Prerequisites:
Review the science unit in which invertebrates were taught and the proper way to dribble (i.e., fingerpads, push the ball down gently, head up).
Suggested Grade Level:
3-5
Materials Needed:
Large index cards, markers, variety of balls to bounce, examples of the animals in the four major types of invertebrates.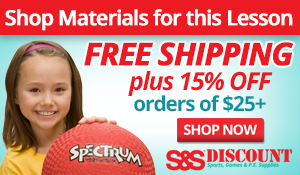 Physical activity:
Dribbling with the hands
Description of Idea
Search for at least five examples of the four major types of invertebrates (mollusks, arthropods, echinoderms, and annelids). Write those examples on index cards, making one set for each group of 3-4 students. Probably a good idea to laminate these.
Have students begin in small groups of 3-4 in their self space at one end of the gym. Spread the card sets out in front of each group at the opposite end of the gym. Have each group select the type of ball they prefer to dribble (i.e., playground ball, smaller sized basketball, etc.). On the teachers signal, 1-2 members of each group dribble to an index card, pick up the card, and dribble back to their group.
The group sorts the cards by type of invertebrate while the other group members take their turn dribbling to pick up the remaining cards. When all cards have been collected, the groups can put them in alphabetical order. While the students are dribbling the teacher calls out various levels and pathways for the students to dribble on. Students can dribble with the right and left hands and in different directions. Alternative ways to dribble could be written on the back of the invertebrate cards, if the teacher prefers not to call them out.
Variations:
The groups could also sort cards by syllables, clapping them out.
Students could toss beanbags, stretch, or hop to the index card examples.
The index cards could have any information that can be sorted. For instance, shapes, states in the same region, and parts of speech are just a few other examples of modifications to this activity.
---
Submitted by Kristie Monjack who teaches at Clemson University. Thanks for contributing to PE Central! Posted on PEC: 5/21/2000.

Viewed 14185 times since 8/24/2001.
---
---
Previous Comments:
There are currently no comments to display. Be the first to add a comment!