Name of Activity:
Cartoon Challenge
Academic content:
Science
Purpose of Activity:
To have students practice locomotor movements and space awareness while reinforcing knowledge of living and non-living things learned from the classroom.
Prerequisites:
Establish the definitions of living and non-living. Understand the different locomotor movements, and how to move in the space without collisions.
Suggested Grade Level:
K-2
Materials Needed:
A variety of pictures of cartoon characters such as Rugrats, Winnie the Pooh, etc., depicting living and non-living things (at least one picture for each child in the class); bulletin board sheets - one for a living category and one for a non-living category; velcro/tape to attach the pictures onto paper or wall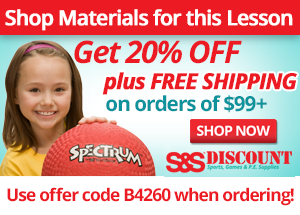 Physical activity:
Locomotor Skills/Space Awareness
Description of Idea
Students will be sitting, scattered in their personal space, cartoon characters are placed throughout the general space in the gym. On the teacher's signal, each child will perform a locomotor movement that the teacher calls out and travels to pick up a cartoon character and then travels back to his personal space. The teacher will call out different locomotor movements each time for the students such as walk, run, skip, hop gallop, or leap. The teacher will also specify which type of picture the child is to try to find. (i.e. "Everyone with a belt on, or everyone with green eyes pick up pictures of non-living things, or everyone who has a birthday in Jan., March, Dec., pick up pictures of living things") The children can return the pictures to the floor and repeat the activity for a number of different times. To check for understanding, the living and non-living categories can be placed on a wall and discussed. Repeat activity after explaining any incorrect placements.
Variations:
Have students utilize different pathways, directions, and levels to move.
Identify the characters by characteristics, i.e., hair or hairless, colors worn by characters, clothes worn by characters.
Use this same idea to sort through vegetables, fruits, meats and dairy products or any other category of things
Assessment Ideas:
On an assessment sheet, have a number of pictures of both living and non-living things. Have children circle one type, and put an "X" on the other.
Have the children to name three locomotor (traveling) skills.
Submitted by Jennifer R. Puzio who teaches at Frostburg State University in Frostburg , MD . Thanks for contributing to PE Central! Posted on PEC: 5/21/2000. Viewed 25468 times since 8/24/2001.
Cartoon Challenge

---
Previous Comments:
| | |
| --- | --- |
| regine s hora | ist so very easy to understand but i dont like it |
---
---