Name of Activity:
Keep It Up
Suggested Grade Level:
4th and Up
Materials Needed:
Beach balls, foam balls, supermarket balls or any ball that is appropriate for students of this age to volley successfully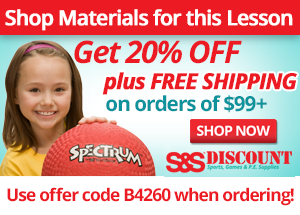 Description of Idea
Have students form into groups of three/four. The groups then need to choose a ball they would like to volley between them. After they find a good safe playing space in the activity area they are to have one student start the activity either by volleying or tossing the ball to another group member. From then on their task is to try to keep the ball in the air. They must use either bumping or setting skills that they have previously practiced in class. Students can hit the ball twice in a row if they want. If the ball hits the floor they start again.
Variations:
It they want the students can count how many hits they keep the ball going. Have them try to break their record.
If they are having trouble then allow them to strike the ball anyway they wish to.

---
The following activity is taken from the book entitled "Children Moving: A Reflective Approach to Teaching Physical Education (5th Edition)" authored by George Graham, Shirley Holt/Hale, and Melissa Parker. Mayfield Publishing has granted exclusive permission to PE Central to reprint this activity. Further reproduction of this task is strictly prohibited unless permission is obtained from Mayfield Publishers. To order the book (ISBN #1-55934-130-0) or to seek permission call Mayfield at 1-415-960-3222.
Teaching Suggestions:
If a group is having trouble encourage them to get a different type of ball.
Assess their bumping and setting skills using our Teacher Cue Checklist Sheet
No diving for a ball is allowed. Students must stay on their feet!
Encourage students to call the ball if it comes to them. This encourages communication just like on a volleyball team.
Submitted by Mark Manross in Blacksburg, VA. Thanks for contributing to PE Central! Posted on PEC: 10/9/2001. Viewed 65662 times since 8/24/2001.
Keep It Up

---
Previous Comments:
Noom Hkurh

Thanks so much for your helpful teaching tips.
I am a teacher in Thailand, it is on the Northern Thailand border. We are working to provide free education to poor children and orphans who fled from Burma. You can view our website here, http://schoolsofhope.blogspot.com/.

I worked at another school for two years and I am about to start a new school for children those lack of chance to go to school.

I would welcome volunteers to help to teach.
Please consider how can you support us or find people to fund us.

My email address is [email protected]

Thanks so much.

Noom Hkurh.
---
---