Name of Activity:
Lifesaver Volley
Suggested Grade Level:
3-5
Materials Needed:
Cones for boundaries, 3-5 Nerf Frisbees, and 3-5 foam balls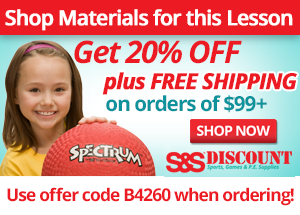 Description of Idea
Set up cones to establish playing boundaries. Select 3-5 students to be the taggers and give them each a Nerf Frisbee. Select 3-5 students to be the 'lifesavers' and give them each a foam ball. Then have one of the 'lifesavers' and another student demonstrate volleying a foam ball 4 times in a row (this is how the 'lifesavers' will free a tagged or frozen student in the activity).
On the teacher's "GO" signal, the taggers try to tag as many students as they can, but the Nerf Frisbee must be in the tagger's hand. Students who are tagged with a Nerf Frisbee become frozen. However, students who are 'lifesavers' cannot be tagged. The 'lifesavers' are to save or unfreeze the tagged students. To unfreeze a student, the 'lifesaver' and the tagged student must volley the foam ball 4 times in a row. After the ball is volleyed 4 consecutive times, the student who was frozen now becomes the new 'lifesaver' and the previous lifesaver can now be tagged.
Students enjoy this game because most of them get to be the lifesaver where they can 'save' someone and it is also a fun way to reinforce volleying skills.
Teaching Suggestions:
Make sure to switch taggers during the activity.
Have students walk during the activity first.
Instead of using foam balls, the 'lifesavers' could use balloons, small beach balls, or any other ball appropriate for volleying.
Instead of using Nerf Frisbees, the taggers could use yarn balls, bean bags, or any other object appropriate for tagging.
Have the 'lifesaver' and the frozen student volleying the ball 5 or more consecutive times to unfreeze the tagged student.
Instead of volleying, incorporate other skills such as kicking, throwing, etc.
Submitted by Janice Schlegel who teaches at Nashoba Brooks School in Concord, MA. Thanks for contributing to PE Central! Posted on PEC: 10/7/2001. Viewed 61436 times since 8/24/2001.
Lifesaver Volley

---
Previous Comments:
There are currently no comments to display. Be the first to add a comment!
---
---