Name of Activity:
"M…M…M… Healthier"- Slogan
Purpose of Activity:
Students in groups of 3 will identify by listing on a sheet of paper what companies slogans/jingles appears through a game of jeopardy. Students will gain an understanding of what advertisement's general purpose is.
Suggested Grade Level:
6-8
Materials Needed:
Computer, Overhead projector, Whiteboard- to keep score, (Jeopardy game in PPT)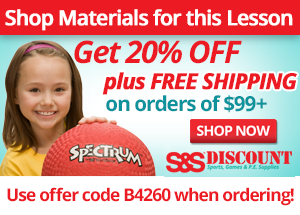 Description of Idea
Students will be in groups of 3 and challenged to work together and figure out which company is being referred to. Through this students will see how they are influenced by slogans and jingles more than they actually realize. The GAME is in PPT form. If a question is answered wrong, allow students to "borrow" to encourage them to pay attention.
Students will wager their points at the end and will have 90 seconds to complete a worksheet which they must get 90% or more to receive the points they wagered.
Variations:
Rolling a dice, or randomly calling on groups is great idea for calling out groups.
Assessment Ideas:
Have students create an advertisement poster and have the following criteria identified such as what age group, gender, and interest they are aiming towards.
Submitted by C.L. Whiteside in Stevens Point, WI. Thanks for contributing to PE Central! Posted on PEC: 4/19/2011. Viewed 37543 times since 1/25/2011.
"M…M…M… Healthier"- Slogan

---
Previous Comments:
| | |
| --- | --- |
| Alex | I think this is a great idea thank you for attaching the powerpoint as well. THe powerpoint really brought the idea to life once i saw it. |
| Megan | This sounds great. Do you have the PPT that goes with this lesson?? |
---
---