Name of Activity:
Jump Rope Integration
Academic content:
Math and Writing
Purpose of Activity:
To learn and practice both long and short jump rope skills, to review addition and multiplication, and to create jump rope rhymes.
Prerequisites:
Students should know basic single digit addition and multiplication and how to write sentences. Additionally, students should have previous experience with learning how to jump rope.
Suggested Grade Level:
3-5
Materials Needed:
2 long jump ropes, several short jump ropes, 10 small foam dice, large paper and markers, a book of jump rope rhymes for reference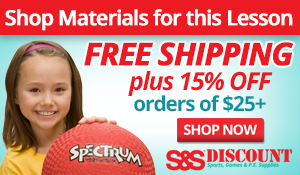 Physical activity:
Jump Rope Skills
Description of Idea
Divide students evenly into groups of 4-5 students. Students will rotate stations every 5-10 minutes.
Station #1: The students will jump short ropes. Here students each have a partner. One person rolls the dice and either multiplies or adds the numbers rolled. The other student jumps the rope that many times (of the answer), then they switch roles.
Station #2: Students create their own jump rope rhyme. They can reference the jump rope rhyme book for ideas. Students write the rhyme on paper.
Station #3: The students will jump long ropes. Here the students can test out their rhymes by including them as they jump.
Variations:
You may add more dice and have students add the first two dice and multiply by the third. You may have students record their rhymes or collaborate with the music teacher.
Assessment Ideas:
Teacher walks around to give feedback and cues for jump roping and to give advice about writing the rhymes. Rhymes can be brought back to the classroom to finish, if students run out of time. The jumprope partner can check the math for correct answers.
Teaching Suggestions:
Read a jumprope book at the beginning of the class to enhance literacy for younger children.
Adaptations for Students with Disabilities:
Have students who can't jump turn the rope, roll the dice or practice jumping over a rope lying on the floor. Have different size ropes available.
---
Submitted by Ana Reutinger who teaches at Pickett Elementary School in Lexington, NC. Thanks for contributing to PE Central! Posted on PEC: 12/26/2010.

Viewed 30414 times since 12/2/2010.
---
---
Previous Comments: