Name of Activity:
Native American Survival Circuit
Academic content:
History
Purpose of Activity:
To perform a variety of physical activities to help understand how the Native Americans survived through the four seasons.
Prerequisites:
Students should have received background knowledge in the classroom about types of activities the Native Americans participated in during all four seasons, in order to survive in their land.
Suggested Grade Level:
3-5
Materials Needed:
15 cones, 6 hula hoops, 3 bean bags, 12 rubber animals or bean bag animals, three baskets of a dozen tennis balls, six empty baskets, 6 jump ropes, 3 cups, 36 manipulatives, 3 scoops, 18-22 whiffle balls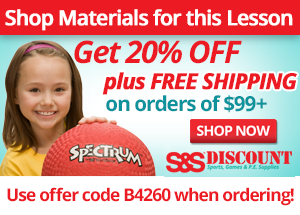 Physical activity:
variety of locomotor & non-locomotor skills
Description of Idea
Divide students into groups of 3.
Station 1: Winter (hunting): Place 3 hula hoops with 4 rubber animals in each hoop. Place a cone approximately 10 feet in front of each hoop with a bean bag at each cone. Students will toss the bean bag into the hoop to collect an animal for their group. If they miss, they quickly retrieve a bean bag and bring it back to the cone and shoot again. If successful, the student will run to collect the animal and the beanbag and bring it back to the cone. As time permits, students will continue to toss beanbags into the hoop to collect all four animals.
Station 2: Spring (picking berries & fishing): This is a 2 part station. Part A - Place the buckets of balls approximately 10 feet away from empty buckets and three starting cones. The students will run back and forth from the empty bucket to the full bucket (berry bush), get a ball and bring it back. They continue until all are picked. Part B - Place three buckets (fishing holes) approximately 5 feet away from beginning cones with six jump ropes (fishing rods) at each cone. Have the student try to underhand flip the jump rope handle into the bucket. Each time the handle lands in the bucket they have caught a fish.
Station 3 - Summer (planting crops-squash, beans, corn): Place 3 cones as starting spots, each with a cup holding 12 manipulatives (seeds). The students pick one seed out of the cup, at a time, and place it out in a designated area. Have the students continue returning back to the cup to get another seed to plant until all seeds are planted nicely in a row directly in front of them. There should be 3 rows of planted seeds at the end. (The teacher will need to give them a set distance apart to plant seeds, based on space.)
Station 4 - Fall (harvesting crops): Place 3 cones for starting lines and put a scoop at each cone. Line up approximately 6-8 whiffle balls directly in front of each starting cone to resemble crops that need to be harvested. Place a hoop behind each starting cone to represent the collecting basket. Students at each cone will run out and scoop up one whiffle ball (crops) and return to place it in the basket and continue until all crops have been picked.
Students rotate stations with a teacher signal.
Variations:
Decrease or increase distances of tossing or retrieving.
Have fewer or more crops/seeds.

Assessment Ideas:
Success of groups with number of animals collected or how quickly crops are planted and gathered.
Using heart rates to judge cardiovascular gains.
Create a score card that students carry around with them to record their results.
Adaptations for Students with Disabilities

Using partners to assist with retrieving.
Decreasing the distance of travel.
Submitted by Tammy Underwood in Williamsburg, VA. Thanks for contributing to PE Central! Posted on PEC: 12/26/2010. Viewed 44123 times since 11/2/2010.
Native American Survival Circuit

---
Previous Comments:
There are currently no comments to display. Be the first to add a comment!
---
---