Name of Activity:
Survivor Houghton
Purpose of Activity:
The purpose of the activity is to have students work together to solve challenges while also incorporating fitness activities.
Suggested Grade Level:
9-12
Materials Needed:
The following equipment is needed for this activity:

- 4 tribal flags (wood stick with bandana attached—each team has a different color)
- 16 resource challenge cards (4 water, 4 food, 4 fire, and 4 shelter)
- gym floor tape
- 4 laminated turkey targets
- 4 playground balls (4 inches in diameter)
- 4 large Gatorade jugs (or other large container)
- 4 folding mats
- 20 noodle pieces (about 1½ inches in length)
- 4 laminated fire cards
- 4 unassembled camping tents
- bandanas/blindfolds for all students (each tribe has its own color)
- 4 agility ladders taped on gym floor
- 12 jump ropes (varied lengths)
- 4 sets of 2 small cones with rope spread from one cone to the other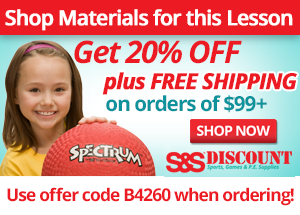 Description of Idea
Divide the students into four teams called tribes. Each team is given a tribal flag with their tribal name on it and each player is given a bandana. The tribes are "stranded" at different locations throughout the "western New York wilderness" (gym) and are given a few essential supplies including: 4 resource challenge cards, 1 raft (folding mat), 1 arrow (playground ball), 5 logs (noodle pieces), 1 unassembled shelter (tent). The tribes have 30 minutes to obtain the resources of water, food, fire, and shelter. These resources are obtained by successfully completing the challenge listed on the resource challenge cards. (Each tribe has a resource challenge card for water, food, fire, and shelter). The resources can be obtained in any order.
At the end of 30 minutes, tribes that have successfully obtained all the resources have earned the right to participate in the final Survivor Houghton team challenge. For the final challenge, tribes must work together to get all tribal members through the obstacle course as quickly as possible. The first tribe to have all of their tribal members successfully through the obstacle course wins and earns the title "Sole Survivor".
Survivor Houghton Handout

Variations:
NOTE: This idea was created for the high school I teach at in western New York and uses equipment that is available within our PE program. The resource challenge cards can be creatively adapted to fit the location and available equipment of a different school.
Assessment Ideas:
After the activity has been completed, discuss the questions below with the students. Be sure to get responses from members representing all the tribes.
- While completing the Survivor Challenge, what is one way your tribe worked well together?
- While completing the Survivor Challenge, what is one way your tribe could have improved in working together?
- If you could go back as a tribe and re-do one part of the Survivor Challenge, what would it be? How would you do things differently?
Submitted by Krista Reitnour in Houghton, NY. Thanks for contributing to PE Central! Posted on PEC: 1/25/2011. Viewed 114957 times since 10/28/2010.
Survivor Houghton

---
Previous Comments:
Frank
Char

Can't wait to try this!!! Thank you for sharing.
My only concern is getting "tents" of some kind.
:)


Jo Bailey

I am very excited to try this - we have started doing tribe style challenges with our adventure ed classes and they love them!
---
---