Name of Activity:
Bordering States
Academic content:
Social Studies
Purpose of Activity:
The purpose of this activity is learn the names and location of the states that border where you live using various skills.
Prerequisites:
Students need to review the activities and the bordering states in each area.
Suggested Grade Level:
3-5
Materials Needed:
A map of the USA labeled on the floor or playground. Floor marking tape can also be used on the gym floor. Use grid lines over a printed map of your specific state and place cones or rubber circles on the floor to match the grids on the paper. Use jump ropes to outline the state. You can follow the ropes using a tape roller to make the map. Use additional tape to mark the surrounding states. Identify the surrounding states with large initials (KY TN NC MD WV) and dashes representing borders. After completing the map, outline details of the regions in your state. Example for the state of VA. might include:Appalachian Plataeu has blue rectangle shapes, Valley and Ridge has red swivels, Blue Ridge mountains have blue triangles, Piedmont has yellow feet, and Coastal Plain or Tidewater has wave shapes. The major rivers can also be marked. Use an upbeat music CD that is divided into 35 second sections with a 5 second intervals in-between. Have various pieces of equipment ready on the side of the gym, so that the first group at that state can get to it quickly.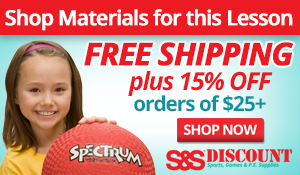 Physical activity:
Various Activities
Description of Idea
Using the map marked on the floor, students are divided into small groups. Each group goes to a particular state to start the activity. Students will be given short instructions if they don't know how to do a certain activity. Change the activities frequently and write them on a large dry erase board, if possible. Here is a sample of activities for the state of VA: MD - Hula Hoops, WV- Jump Rope, KY- Push ups or simply walk the plank, TN- Wall chairs, NC- Border jumps (in and out of the state). Add scooter boards in the Chesapeake Bay/Atlantic ocean area. When the music stops and changes songs, that is the children's cue to rotate to next state or region.
Variations:
-Use the 5 regions of the state for activities.
-Make activities easier for younger students by modifying them.
-Use as stations for a specific skill such as underhand tossing, balance, volleying etc..
Assessment Ideas:
-Observation and asking questions about what state they are in or going to next
-Classroom teacher written assessment
-If using as specific skill stations, choose one to do a skills test as students rotate like sit-ups.
Adaptations for Students with Disabilities:
Have a buddy move with a student who has difficulty and assist.
---
Submitted by Joan Sudec in Victoria, VA. Thanks for contributing to PE Central! Posted on PEC: 10/10/2010.

Viewed 27462 times since 10/1/2010.
---
---
Previous Comments:
There are currently no comments to display. Be the first to add a comment!