Name of Activity:
Body Made Simple
Academic content:
science
Purpose of Activity:
To gain an understanding of the different simple machines in the human body, how they work and what they can do.
Prerequisites:
Knowledge of the simple machine - lever, what is involved with the fulcrum, force and load.
Suggested Grade Level:
3-5
Materials Needed:
jump ropes, small dumbbells/hand weights (3-5 lbs.), soccer/playground balls, small soccer goals, carrots, basketballs, basketball goals/hoops, poster board, markers, science journals, pencils, radio/music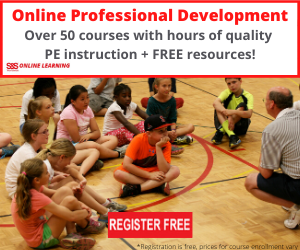 Physical activity:
practice with manipulative and non-manipulative skills
Description of Idea
* Set up stations before the students enter the classroom.
* Stations are as follows:
Station 1: "These levers are so cool, they make ropes turn!"
Pick a jump rope and start jumping! Pay attention to the lever(s) you use to turn the jump rope! Name the body part that represents the lever, along with the fulcrum, the load and the force on the lever.
Station 2: "These levers are kicking!"
Grab a ball and a partner and start kicking! Pass and receive the ball ten times with your partner, then make a line and take turns shooting goals! Check out the levers that help you kick and record the fulcrum, load and force in your science journal.
Station 3: "Take a bite out of levers!"
Take a carrot from the bag. Chew hard and think about the lever used to chew the carrot and list the fulcrum, load and force in your science journal. (Hint: Teeth aren't levers, but they are another type of simple machine. Tell me what simple machine they are for extra points!)
Station 4: "Load lifting levers!"
Grab a weight and start lifting. Curl the weights five times with your left arm, then five times with your right arm. What body part is acting as the lever? Record the fulcrum, load and force in your science journal.
Station 5: "Unbe-lever-ble sit-ups!"
You need simple machines to do any exercises! What's the lever that helps you perform sit-ups? Do ten sit-ups and think about the body part that acts as the lever to help you. Thereafter, record the fulcrum, load and force in your science journal.
Station 6: "Take a shot at naming that lever!"
Pick up a ball and start shooting! Shoot the basketball ten times and think about the levers that help you shoot the ball each time and record the fulcrum, force and load in your science journal. You may continue to shoot the basketball, if time permits.
Station 7: "Squat and think about levers!"
Do five deep squats (your knees should make ninety-degree angles), using the wall for support, as needed. Think about the levers that help you squat and record the fulcrum, force and load in your science journal.
* Explain each station, reading the instructions and demonstrating the activity. Split students into seven groups and assign a starter station for each group.
* Students will begin their first station when the music starts.
* When the music stops, have the students wrap up the activity, record their answers, and move to the next station. When the music starts again, students will begin the activity at their next station. (1 to 2, 2 to 3, etc.)
* Review answers students give and explain any misunderstandings or questions about the activity.

Assessment Ideas:
reading their journal entries and assessing/commenting on their experiences
Adaptations for Students with Disabilities

This activity addresses diversity as it incorporates written, verbal and example instructions, addressing all three diverse learning styles as well as compensating for any disabilities in these areas. To further address any issues, you could have alternate activities for students with physical disabilities or have students who cannot perform the actions observe and answer questions based on actions of group members.

Submitted by Kaitlyn Hodges who teaches at Clemson University in Clover, SC. Thanks for contributing to PE Central! Posted on PEC: 5/25/2010. Viewed 54511 times since 4/20/2010.
Body Made Simple

---
Previous Comments:
| | |
| --- | --- |
| Lindsey Wallace | Did anyone ever find the answers to these? |
| Katie | What are the answers to each of these questions at the stations? |
---
---