Name of Activity:
Let's Give Thanks!
Purpose of Activity:
This holiday warm-up activity will have students practicing a variety of movements, including aerobic, balance, body/space management, leg strength, and arm strength.
Prerequisites:
Students should be reminded of proper manners, especially when it comes to others wanting to shake hands. A brief history of the first Thanksgiving and traditional foods eaten would be useful.
Suggested Grade Level:
K-2
Materials Needed:
None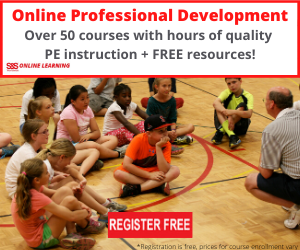 Description of Idea
Students are standing in their own space. The teacher tells the students they will be doing a warm-up activity that will benefit the fitness components of strength, endurance and flexibility. After explaining the motions for each "food" term, the teacher will tell (or ask) what food group each belongs to.
The words are:
MASHED POTATOES: The Mashed Potato Dance (fists closed, arms extended out in front, alternating up and down movement.) This exercises the upper body and potatoes are in the vegetable group.
TURKEY: Flap wings and gobble like a turkey while running carefully throughout the gym. This is an aerobic exercise and turkey is in the meat group.
APPLE PIE: Students roll like a ball (apple) towards the center of the floor and sit together closely like apples in a pie. Rolling needs flexibility and body management. Apples are in the fruit group.
CRANBERRIES: Students stomp on the floor on the cranberries to mash and puree the berries. This exercises the leg muscles and cranberries are in the fruit group and full of antioxidants.
GREEN BEANS: Students walk around the gym on their tippy toes, arms extended upward, attempting to look long and tall. This exercise helps flexibility, balance and body awareness. Green beans are in the vegetable group.
THANKSGIVING: Students walk around the gym shaking hands and giving appropriate compliments to their classmates. This is a way to show proper social skills.
Assessment Ideas:
Using a checklist, the teacher can observe the skills and check if they are performed properly.
Adaptations for Students with Disabilities

Allow extra time to perform tasks.
Submitted by Estel Sampelayo who teaches at S.J. Preston Elementary School in W. Harrison, NY. Thanks for contributing to PE Central! Posted on PEC: 1/11/2007. Viewed 69440 times since 12/5/2006.
Let's Give Thanks!

---
Previous Comments:
| | |
| --- | --- |
| Damien | Worked pretty well. Need more ideas for movement. |
| Bonnie Arrant | I added other foods - brown and serve rolls are just rolling, tea - arms out to sides, sweet tea - kissing sound with lips and arms out, sweet potatoes - kissing sound with potato motions, milk-like milking cow, water, both hands flow at waist from right to left like a river,whip cream - arms swirl above head and make whirring sound with mouth, fruit salad - 3-5 friends in a group making funny faces, popcorn, bend knees near floor and explode up with popping sound, jello - shake body(can do fun shape and then giggle), applesauce - sitting criss cross applesauce. This is a good one to end with so you can transition into new directions |
---
---