Name of Activity:
The Ghost In The Graveyard
Purpose of Activity:
To work on chasing and fleeing skills
Prerequisites:
This is a special theme-based holiday activity. It should only be used after moving to "open spaces" and proper dodging and fleeing skills have been taught and "mastered".
Materials Needed:
15-20 varied types of Gymnastic mats, parachutes, hockey goals, (ball) buckets (objects to allow for hiding places), gymnasium floor, "marked off safety zone"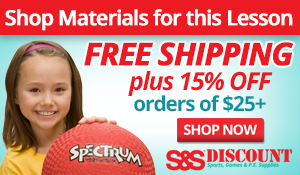 Description of Idea
This particular activity is used before or after the celebration of Halloween. This is a "Theme Activity". Students can discuss Halloween and its meaning, how it originated and use as a lead in to this activity.
Mats and other obstacles (be careful what you choose), used as hiding places are spread out on the gym floor. "The Ghost of the Graveyard" will use these as his/her hiding place. A student is chosen as the "Ghost". He/she will hide somewhere in the graveyard. The rest of the students hide their eyes in the marked off "safety zone" (outside boundary area marked with floor tape). The students will count in unison, 1 o'clock, 2 o'clock, 3 o'clock, "Bats", 4 o'clock, 5 o'clock, 6 o'clock "Witches", 7 o'clock, 8 o'clock, 9 o 'clock "goblins", 10 o'clock, 11 o'clock, 12 o'clock "midnight". Once they are finished counting, students begin to find the ghost hidden in the graveyard. Students look for ghost by walking. When they think they see the ghost, they say, "Ghost In The Graveyard" and flee (via walking) to their safety zone, without being tagged. If students are tagged they go to the 'safety zone' count again, and return to the game. Another Ghost is then selected and the activity continues as long as the teacher desires.
Variations:
Instead of children saying "Ghost In The Graveyard" you may give them something to hold like a yarn ball and the signal that they have spotted the Ghost is they raise the yarn ball in the air.
Assessment Ideas:
Teacher observes that students are moving in empty spaces, are not bumping into others, using previous doging skills.
Teaching Suggestions:
Make sure students walk for this activity as safety needs to be priority number one.
Be careful in how you set the gym up with your obstacles as you don't want children to trip and fall.
Teacher may ask, "Oh great ghost in the graveyard please make a noise to let us know you are out there"
---
Submitted by Renee McFarland who teaches at Parkland School District in Allentown, PA. Additional authors for this idea were Robert Clark. Thanks for contributing to PE Central! Posted on PEC: 10/13/2001.

Viewed 59993 times since 8/24/2001.
---
---
Previous Comments:
There are currently no comments to display. Be the first to add a comment!