Name of Activity:
Playing Card Roulette
Suggested Grade Level:
3-5
Materials Needed:
Standard deck of cards (52)
Playing Card Roulette Sheets
(amount needed varies on class size)
Small cones are optional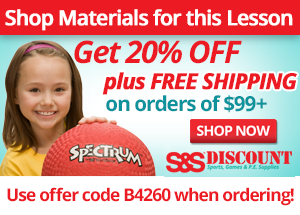 Description of Idea
This activity is a quick warm-up I created for my 3-5 graders.
The activity builds off previous knowledge of fitness concepts and skills such as (jumping jacks, mountain climbers, burpees etc..)
As students enter the gym they will quickly get into groups of 2 as there are two playing cards per sheet by a cone. If a group of 3 emerges, students will alternate flipping the cards. Once at a cone, music will begin and students will flip the cards over to reveal the value.
Cards 2-10 are the value seen, however face cards have higher values. Jacks = 11, Queen = 12, King = 13, and Ace = 14. Students will then add up the point value between the two cards, to reveal what aerobic exercise they must complete. The point values form a range between (4-28) to reveal 9 exercises to complete, as certain values are grouped together.
Sum between (2-4) perform Burpees!
Sum between (5-7) perform Squat Jumps!
Sum between (8-10) perform Push-ups!
Sum between (11-13) perform Sit-ups!
Sum between (14-16) perform Alternating Lunges!
Sum between (17-19) perform Mountain Climbers!
Sum between (20-22) perform Line Jumps!
Sum between (23-25) perform High Knees!
Sum between (26-28) perform Imaginary Jump Rope!
The exercises require little to no equipment as it is meant to be a quick 6-8 minute instant activity.
Variations:
The activities can be adapted, by providing a cheat sheet for different and unique exercises as it could be stapled to the playing card sheet. Also I added in the instruction the option to complete modified workouts such as push-ups on students knees. The various exercises can be changed frequently to increase student motivation as they do not have to keep the same 9 exercises I provided as a demo.
Submitted by Joshua Sommers who teaches at TCNJ in Hamilton, NJ. Thanks for contributing to PE Central! Posted on PEC: 4/10/2020. Viewed 7666 times since 3/16/2020.
Playing Card Roulette

---
Previous Comments:
There are currently no comments to display. Be the first to add a comment!
---
---