Name of Activity:
"That POWER" Warmup!
Suggested Grade Level:
3-5
Materials Needed:
Download the song "That Power" by Will.I.Am (ft. Justin Bieber), view video of it in action below.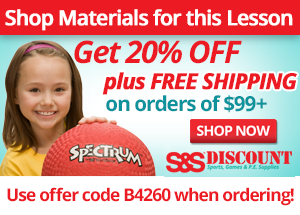 Description of Idea
I listen and listen to music often to find clean music for my Elementary students. I found That Power by Will.I.Am (featuring Justin Bieber) and it is an awesome song that is really upbeat. My students love it. I incorporate muscular strength, aerobic endurance, flexibility and learning the major muscles of the body in this. Here it is:
* 8 pushups to the cadence of down and 1, down and 2
* Then, I say, sit on up, sit on up, with a lot of enthusiasm.
* Next is learning the muscles. Clap 2 times after each muscle. ( I use: trapezius, clap, clap! deltoids, clap clap!and continue with biceps, triceps, pectorals, lats, abdominals, quadriceps, hamstrings, gastrocnemius and soleus. The students say these loudly as they touch the muscle!)
Then, we stretch left, right then middle, until the music is about to get really fast then we stand up fast, and do 10 jumping jacks!
It is so fun and the students love it but it is hard. I always say, You can do hard things.
Variations:
Instead of pushups, raise the roof.
Instead of jumping jacks, hands or feet only.
If unable to touch the muscle, say it only.
Submitted by mary cluley who teaches at Notre Dame Catholic School in Burkburnett, TX. Thanks for contributing to PE Central! Posted on PEC: 8/18/2019. Viewed 14051 times since 8/17/2019.
"That POWER" Warmup!

---
Previous Comments:
There are currently no comments to display. Be the first to add a comment!
---
---