Name of Activity:
Jump Rope Skill Cards
Purpose of Activity:
To give students multiple opportunities to practice turning a jumped rope in a variety of ways and increase aerobic capacity through that practice.
Activity cues:
Basic Jump Rope Skill Cues
Prerequisites:
Students will need the basics of jump rope and have practiced it to the point of mimial efficiency.
Suggested Grade Level:
3-5
Materials Needed:
One jump rope per child.
1 cone to identify stations.
15 task cards
(recommend laminating them) (this link takes you to our DropBox folder where you can download all of the cards)
One poly spot per student.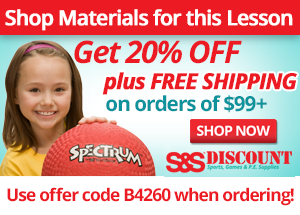 Description of Idea
This is a general overview of how I use these jump rope skill cards in my classes.
I use these 15 task cards as a way to effectively teach different jump rope skills to my students. The way I use these, and have gotten the best results, is to teach them over a longer period of time slowly progressing from the simple skills to the more challenging. I start with 3-5 basic jump rope task cards and teach the jump for each card using whole group instruction. I have students stand on a poly spot. First I teach the jump (using the cards) and they follow along. Then, they practice while I go around and provide help and feedback. Then, they practice on their own or with a group.
We practice each of these skills and eventually I set them up as a circuit of all of the jumps.
In addition, it is important to note that II revisit these skills throughout the year.
Examples of Jump Rope Skill Cards
Teaching Suggestions:
Set your students up for success by practicing with them and let them feel the confidence of doing something difficult well. More advanced students can go to higher level cards sooner to keep them engaged. If you see children mastering the skills quicker than others then hand them a card to have them go to the next skill level.


Submitted by Charles Silberman who teaches at Mr. in Laurel, MD. Thanks for contributing to PE Central! Posted on PEC: 5/22/2019. Viewed 14364 times since 5/21/2019.
Jump Rope Skill Cards

---
Previous Comments:
There are currently no comments to display. Be the first to add a comment!
---
---