Name of Activity:
NFL Warm Up with Timer
Purpose of Activity:
To excite students about fitness using each team of the NFL.
Suggested Grade Level:
3-5
Materials Needed:
Laptop, projection screen or Smartboard.
NFL Workout PowerPoint
NFL Workout PDF
NFL Workout Updated
(PowerPoint, 2-1-21)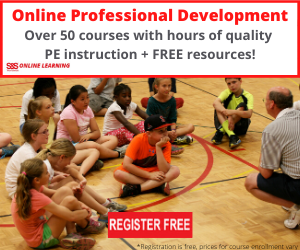 Description of Idea
When students enter the activity area ask them to get into a good self space and to look at the screen. This powerpoint has every NFL team and next to the team it has an exercise for them to perform. When the exercise is displayed they need to perform that exercise for the length of time the slide is displayed on the screen. Therefore you will have to set the powerpoint to different lengths if you want it to stay on that slide longer. Or you can manually change the slide.
I use this during my fitness units but it can be done any time during the year and you could create these for other professional leagues or colleges or other sports.
The kids get excited seeing their favorite teams and players while exercising.
NFL Workout PowerPoint

NFL Workout PDF
Updated Version with Timer
Thanks to teacher Betty Kern for sending in her updated version of the PowerPoint. She added a timer for each slide.
NFL Workout Updated (PowerPoint, 2-1-21)
Teaching Suggestions:
Have someone read for a student who has trouble or modify the exercises for any students who might need it.
Images:

Submitted by Jeff Tiedeman who teaches at Diamond Canyon School in Anthem, AZ. Thanks for contributing to PE Central! Posted on PEC: 2/1/2021. Viewed 104692 times since 10/13/2013.
NFL Warm Up with Timer

---
Previous Comments:
Jamie

Is anyone having trouble with the timer starting when the slide is up?

Sofbal18

St. Louis Rams are no longer. Needs to be LA Rams now.

ellen szalay
Shknop
Tim

Great idea...What happened to the Carolina Panthers?

kk

So fun! After working out with the PowerPoint, I had my students design their own class workout. A group of 4 was given a NFL team and they decided on a exercise. Put them all together...voila! Then I combined all the exercises into one workout to be used by my 3rd and 4th graders. We did include cardio, flexibility, and strength activities.

Rachel Krebs

This is great! It's GAME DAY for the Seahawks, coming off of their Super Bowl win! My students will love this.

William Dunaway

Thanks for sharing your work!!!! It's awesome!

Susan Pray

I love this!! Great, challenging activity!

Katy M

My 6th graders loved! Thanks for posting.

Jeff

Sorry I forgot to include the Bills! I didn't forget the Seahawks though! Go Hawks!

Lisa Campbell

This is great! But this Bills fan is sad to have been left out :(

trish church

I do not know who came up with this but this is the bomb.

rachel farkas

Used this yesterday with 5th grade- projected on the wall of gym- they all loved it! thanks for putting this together- ??where are the Buffalo Bills???

Terri

Well Done! We added music and made it our pre Super Bowl
warm up!

Arlene

This is a great idea! I can't wait to use this in my PE/Computer classes!!! Go Chiefs!

meg Greiner

Thanks for sharing, this is cool! Go Seahawks!

Mary Cluley

This is excellent! I am printing it out right now! Thank you so much!

Kayla

Thanks for taking the time to put that Powerpoint together and share it. Very fun!
---
---